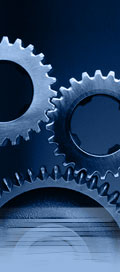 Kellogg Crankshaft Company has five state of the art machining lines for following family crankshafts:

GM Small Block crankshafts (350, Gen-IV, and LS).
Ford Modular V8 crankshafts (4.6L, 5.4L, 5.0L).
GM Big Block crankshafts (Mark IV, Mark V, 8.1L, and 8.8L).
Tri Pump Crankshafts, up to L72" X D30".
Quint Pump Crankshafts, up to L80" X D30".
Key Machines:

CNC Lathes – Turn Concentric Diameters.
CNC Milling Machines – Mill Eccentric Diameters.
5-Axis CNC Horizontal Machining Centers – Drill Oil Holes.
Multi-Wheel Grinders – Grind Concentric Diameters.
CNC Orbital Grinders – Grind Pin Journals.
4-Axis CNC Horizontal Machining Centers – Drill and Tap Post and Flange Ends.
Balancing Machines – Balance Crankshafts.
Super Finish Polishers – Polish Journals and Seal Diameters.
Ultrasonic Washers - Wash Crankshafts.
Three Complete Inspection Labs (4 ADCOLE's, 3 CMM's, etc.) - Inspection.
Technical Competencies:

Induction Hardening.
Fillet Rolling.
Ion and Gas Nitriding.
Carburizing.
Quality Certificates: TS16949 and Ford Q1 Award.